GRANVILLE, Ohio – Wabash College's Little Giants were missing six starters Saturday but didn't miss a beat in thumping Denison, 55-20.
Junior quarterback Tyler Burke threw for 350 yards and four touchdowns in his first Little Giant start. He had scoring throws of 19, 45, 23, and 40 yards.
View photos of the game
here
.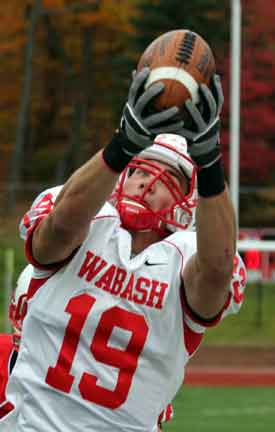 "I thought he played good," Coach Erik Raeburn said. "He's been in several other games but last week I thought was his shakiest performance of the year against Oberlin. I was really happy to see him bounce back this week."
Burke spread the ball around to six different receivers. Jonathan Horn had more than 100 yards for the fourth time in five weeks. He had 128 yards, including a 45-yard scoring play, against the Big Red (3-5) on five catches. Junior Geoff Wright had 96 yards on just two receptions, but one went 40 yards for a score mainly on extra effort.
"I don't think I'm as athletic as a lot of these guys out here," Wright said. "I'm working hard and I think the coaches see that and they've given me the opportunity. When I get the opportunity, I don't want to let it slip by."
Brady Young added three catches for 44 yards and a score. Derrick Yoder caught one pass for a 23-yard touchdown. The senior running back added 33 rushing yards. Sophomore Vann Hunt had 46 yards on six carries. Freshman Tyler Holmes carried the ball five times for 56 yards and a fourth quarter score.
The defense did its part getting the Little Giants going early after the first of two Spencer Whitehead field goals. Jake Martin picked off a pass and returned it 18 yards to post Wabash to a 10-0 lead in the game's first five minutes.
But it was a familiar combination in the second half that really sparked Wabash play. For the third time this year defensive back Sam Smith blocked a punt and for the third time sophomore Jonathan Koop was on the spot to pick it up and run it in 25 yards for the touchdown.
"Sam did a great job of getting in there and blocking the punt and Koop … the guys are giving him a hard time, he's either super smart getting in the right place at the right time or he's real lucky," Raeburn laughed. "All those punts that Sam blocks bounce right up to Koop and he knows what to do with it once he gets it."
The blocked kick was Wabash's ninth of the season, a new Wabash record. Sam Smith tied the single-season record with his fourth block.
"We just practice every week and try to execute the punt block," Koop said. "The blockers just go in there as fast as they can to get the block and the gap opens up. I'm just looking to get the ball - scoop and score."
Defensively, Arizona freshman Nate Scola led Wabash with seven tackles. Dan Ryan Wood, Sam Smith, C.J. Gum, and Pat Clegg had six stops apiece. The defense recorded four sacks and recovered a fumble.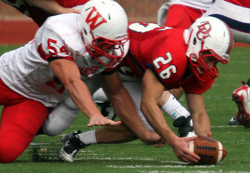 Raeburn was particularly happy since many of the missing six starters were on defense.
"Honestly, we had a ton of defensive linemen hurt and out this week," the coach said. "I thought our young linemen did a nice job. But some of the younger guys that went in there like Grady Phillips, Brady Tolle, Tyler Buresh, and Jorge Diaz-Aguilar played well. I think when we watch the film we're going to see some great plays out of those young linemen."
At 55 points, obviously the Little Giants ran up some big numbers on the statistic sheet. Wabash compiled 518 total yards to Dennison's 259. They out-rushed the Big Red 168-128 and gained more passing yards 350-259.
After struggling with penalty problems in recent weeks, Wabash cut penalties down to just five for 52 yards.
The 6-1 Little Giants now enter the toughest stretch of their season. Wabash will host Allegheny Saturday before traveling to Wittenberg and then return to home for the Monon Bell Game with DePauw.
Photos - (top right) Jonathan Horn makes an over-the-shoulder catch down the Denison sideline in the first half. Horn caught five passes for 128 yards and one touchdown in the Little Giants' victory.
(Bottom left) Junior Luke Zinsmaster scrambles after a loose football. Wabash forced three turnovers in the contest.