GAMBIER, Ohio – Most coaches would be happy with one big special teams' play a game. Wabash Coach Erik Raeburn has watched his punt block team knock down six kicks in the last three games including two Saturday enroute to a 40-3 win over Kenyon.
That doesn't take into account the number of special team deflections that kept punts short, setting up the Little Giant offense in strong field position.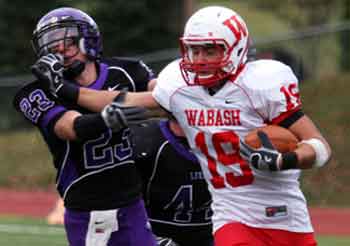 "Our guys have practiced that and they practice hard," Raeburn said ."The last two weeks our punt block team has been fantastic. The thing is there is like four different guys who've blocked punts. It's just not one guy doing a good job. I'm been real proud of those kids and Coach (Steve) Rogers preparing them."
Blocked punts propelled Wabash to a 28-3 halftime lead after trailing 3-0. Another positive is the key play Saturday featured a sophomore and freshman.
"Markell Brown had a punt block in his first start as a freshman," Raeburn said. "Jonathan Koop, he just times it up right He gets in there when the ball is bouncing around and he knows what to do with it. Koop has come up with a big play every game this season. We've been real happy with the way he's played."
Freshman Brown and sophomore Koop combined on a big play with just over two minutes remaining. It started with Wabash getting on the board after a long drive when Chase Belton found freshman James Kraus all alone in the end zone with five minutes left in the half. On the next possession a Kenyon fumble was turned into a quick score capped by Belton's 6-yard run.
Then it was time for the two youngster's magic. Brown broke through the middle of the Kenyon line and knocked down the punt. Koop picked it up and ran 20 yards for the score. In a matter of just under three minutes, Kenyon went from a 3-0 lead to down 21-3.
But the barrage wasn't over. Kyle Najar picked off a Kenyon pass to set up Wabash at the Lord 26-yard line. Belton completed the four-touchdown explosion by connecting with Jonathan Horn for a nine-yard scoring pass.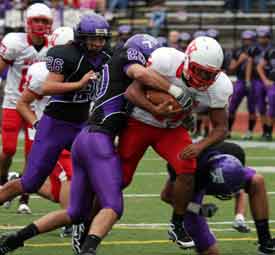 Horn caught his second TD of the game late in the third period. That one was a 34-yarder. Junior Issac Baker ended the scoring with a five-yard catch in the fourth.
Horn's effort was a career best with 13 catches for 195 yards and two scores. Besides the 34-yard scoring catch he also had a 49-yard catch.
"We studied a lot of film this week me, coach, Brady (Young) and all the receivers," Horn said. "We picked out their weaknesses. They weren't the tallest or most physical cornerbacks."
Horn admitted that the loss of Kody LeMond and Wes Chamblee caused him to step up his practice work. "I put a of pressure on myself just to help me work through the week. I'm not trying to be Kody or Wes. I just felt like Brady and I needed to step up and so far we've been able to do that."
The effort hasn't gone unnoticed by Coach Raeburn. "Jon has really stepped up with injuries to Kody and Wes. We really need him to be the go-to guy. As teams decide to blitz us and play some man coverage, we feel like when he's dialed in Jon can get open. We're going to need huge games from him every week."
Horn's big game partially over shadowed Belton's career best 399 passing yards on 31 of 41 with two interceptions and four touchdowns.
Another impressive effort came from sophomore Derek Rowe's 39 yards on 8 carries in the second quarter. Derrick Yoder had 34 and Belton added 30 yards rushing for the Little Giants.
Defensively, C.J. Gum led the way with eight tackles. Jake Martin, Austin Hodges, and Sam Smith added four stops apiece.
As a team, Wabash rolled up 542 yards of offense to the Lords' 162. The defense held Kenyon to just 57 yards rushing.
The biggest negative out of this non-conference win was again penalties. The Little Giants were flagged 14 times for 115 yards.
"We moved the ball up and down the field but we're making so many penalities," Raeburn lamented. "We gain 10 yards and lose 10 yards on a penalty and most of them are just stupid. It's one thing to get a holding or a block in the back when you're playing fast but we've had so many false start penalties and illegal procedures it's just killing us."
Wabash travels to Washington University in St. Louis Saturday.